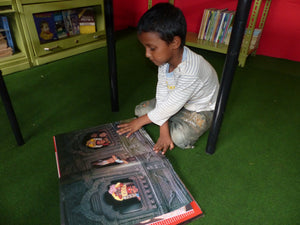 Set of books
Every little helps! A set of encyclopedia or other similar reference books provide facts-based knowledge which leads to awareness, orientation, and comprehension of the world around us.
Let's illuminate the planet with the brilliance of knowledge. Together we can make a difference. Your contribution will reach places and illuminate lives.
The mission of Library in a Week project is to make 100 libraries around the world in a way that drives real sustainable change - our project brings together the community to build the library rather than rely solely on external organizations. Our method is agile, cost effective and has a real impact! We have completed 25 libraries in 9 countries in 1.5 short years including places like a remote village of 200 is deep in the Himalayas only accessible by 5 days of walk or a treacherous 7 hour jeep ride from the nearest road. 
You can become a sponsor for one of our future libraries and deliver the power of knowledge to those who are still awaiting the radiance that can enable them to improve not only their own life but also contribute to those around them. You can keep your sponsorship anonymous or have it displayed on the website to continue to remind people that there are people out there who care deeply!
Personal note from Sultan 
"The world won't change with just a bleeding heart. We need action. I am inviting you to act with me to build 100 libraries. See the build videos if you need motivation. 
Honestly, raising funds is the least favorite part of what I have to do but since I speak on behalf of those that cannot speak right now – I am going to put myself out there again! 90% of all my build are self-funded. Yes – from my own funds because I care. We are 100% volunteer run, don't have an office or any inefficiencies – the cause is too big to waste any resources. The results is 25 libraries in 9 countries in 1.5 years!
I am looking for those sincere change makers that act and not simply talk/like/tweet/worry about credit. I do what I do because I was a child on the other side of this conversation. The cause is personal and real. I simply do not have time to waste as action is what is needed. That is why I build with my own hands and with local mothers, fathers and educators. We build with respect. It is not just a library – it is a spaceship that gives hope. Hope can change lives, just as it changed mine.
This is your chance to contribute as based on the funds raised and my own resources, I will plan the upcoming projects."